To help you get acquainted with the CargoX Platform user interface, here is a quick overview: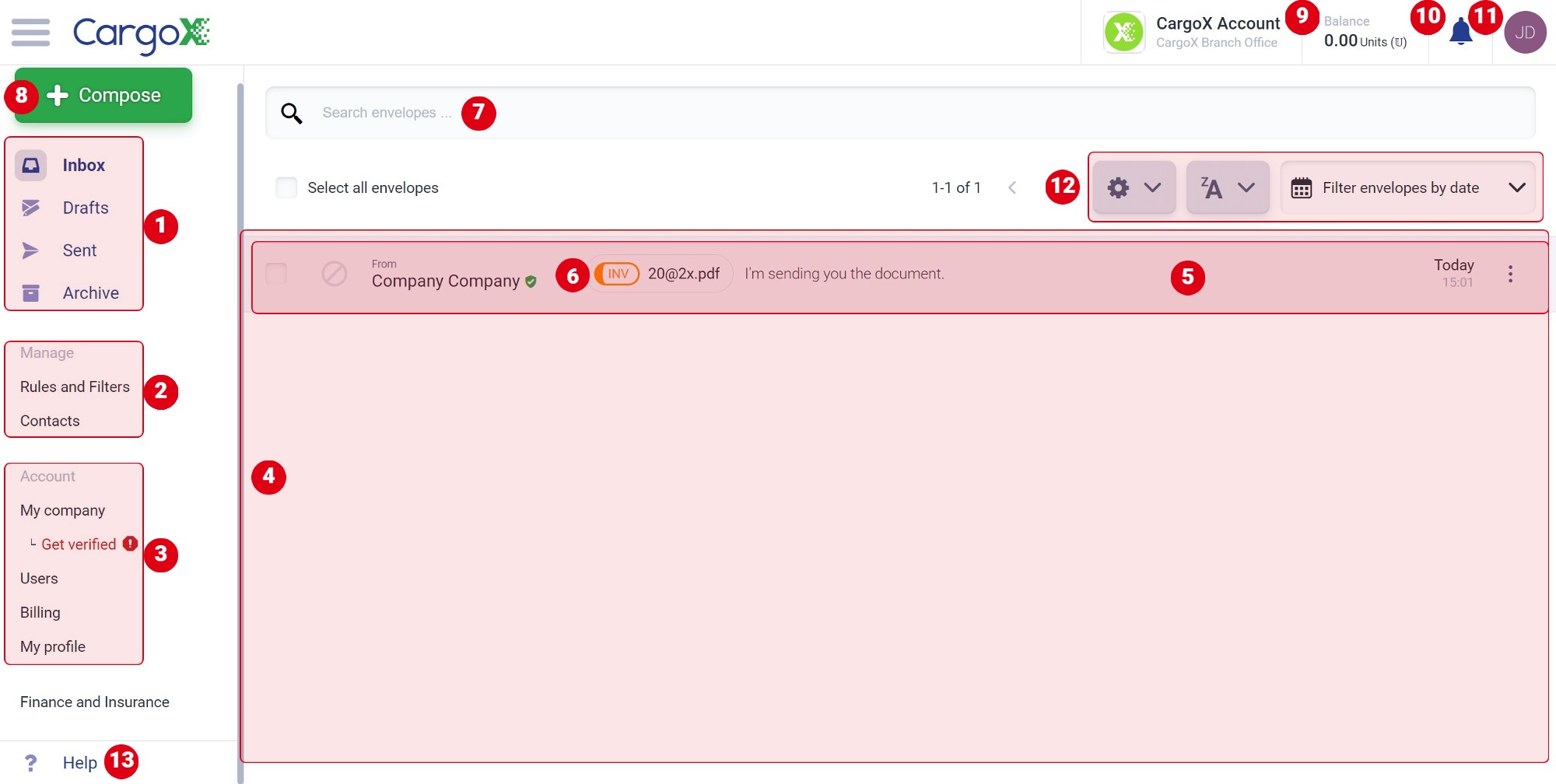 Contains your folders, in which your envelopes are currently stored:

Inbox contains envelopes with documents that are currently in your possession – you own these documents. You can perform actions on all the documents you own.
Drafts contains all the envelopes you started working on. Whenever you are ready, you can continue working on them.
Sent contains envelopes that you sent to companies you are connected with or NAFEZA in case of the Egypt ACI envelope.
Archive is a place where you archive envelopes and documents you have finished working on.
Incoming appears only when you have a pending incoming envelope for which you need to manually confirm acceptance and cover sending costs.
Returned contains all envelopes and documents that were not delivered to the recipient.
This section allows you to manage your company's account details:

Rules and Filters allow you to set up custom notifications depending on various rules. To learn more read about Rules and Filters.
Contacts see details of the companies you are connected to on the CargoX Platform. In the contacts, you can send an invitation to connect to other companies, such as business and transport partners. As a security feature you can only exchange envelopes and documents with companies you are connected to (except for Egypt ACI envelope where NAFEZA is always the recipient).
My company in the Company details tab you can see and also edit your company details. You can also see your unique CargoX ID number that was automatically assigned to your company when you registered. In the Company verification tab you can see the status of your company verification process and the EU companies can also see their VAT settings in the Tax settings tab. In the Delegations tab you can send an invitation to a representative company and give them the ability to file ACI envelopes on behalf of your company.

Users in this section you can create new user accounts for your co-workers and manage their permissions and blockchain keys. To learn more read about User management.
Billing you can buy units (𝕌) for sending documents through the CargoX Platform, download pro-forma invoices and regular invoices, and review your purchase and spending history. You also have direct access to the latest price list.
My profile where you can edit your personal data, manage your blockchain keys, change your password, and set up your layout settings. You can also choose the platform's interface language.
The central part of the screen lists the envelopes of the folder you are currently working in (the chosen folder is marked with blue). Click on the envelope entry to view more details about it.
Each entry in the envelope list represents a single envelope. An envelope is something similar to an e-mail message, as it contains a message field and includes documents.
The rounded icon in the envelope represents the attached documents in the envelope. Click on the document entry to view more document details.
Allows you to quickly find any document by entering search terms in the search entry field. You can narrow your search by using tags like Sender, Document type, ACID number, etc. Although most of the documents are unstructured PDFs, the search also tries to find matching keywords in these documents' contents. To achieve the best results, use tags, and the manually entered metadata when uploading new documents.
This starts the process of creating a new envelope and allows you to send multiple documents along with a message for the recipient, as well as to transfer ownership of the documents.
Displayed here is the number of units (𝕌) you have available on your account. Click the number for a detailed summary of your units (𝕌).
The bell icon will display a red circle with a number of unread notifications. Clicking this opens the notifications listing, where notifications regarding received envelopes, new contacts, blockchain keys, etc., are displayed. Notifications are interactable, and clicking on them gives you access to specific actions!
11

Your photo/avatar image

Provides a shortcut to your profile and some other settings. The image by default shows your initials, and once you upload your photo it will show your face or another avatar image.
12

Workspace customization

You can customize the envelope and document view and the way the envelopes are sorted in the folder view.
Have a problem or a question? Click the blue Help icon to access the Help Center where you will find demonstration videos, support email, and live chat.