To access the My profile page click on the Account | My profile. You will see three tabs:
Personal details

Privacy and security

App settings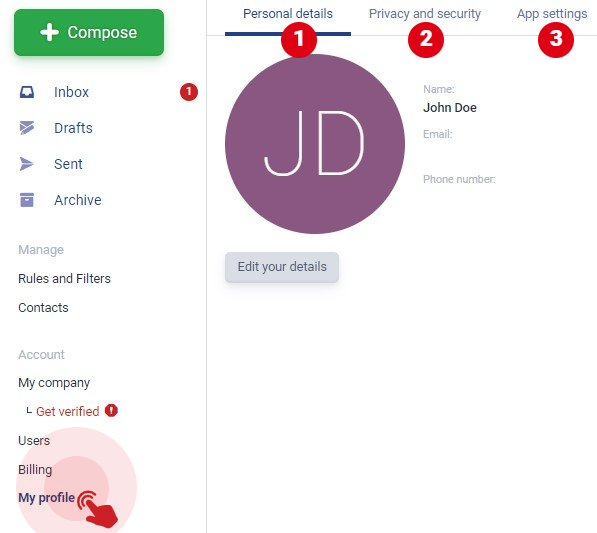 Personal details

You can review your personal details here. By clicking on the Edit your details button you can:

Change or add your user profile details like your first name, last name, email address, phone number, department/branch and your position/title.
Subscribe to news from CargoX.
Add/change image (camera) button and upload your avatar photo, which will be displayed in the top right corner on the CargoX Platform.

Click on the green Verify button to confirm the changes.
Privacy and security

This tab gives you the option of changing your access details – blockchain key and password. You can also review your most recent sign-ins and view your account's set permissions.

Blockchain keys: all blockchain keys linked to your account are displayed under this section. You see a specific blockchain key's public address, type, when it was added, and whether it is currently active. Users can have several blockchain keys and use them independently.
Sign in with password: under the sign in with password section, you can change your sign-in password by clicking on the

Change password

button. You will be asked to enter your current password and your chosen new password.
Sign-in history: As a security feature, you can review your last sign-in attempts.
App permissions: view your account's set permissions. More information can be found here.
App settings

The last tab shows the available options for customizing your user experience. You can:

set compact layout mode
switch to dark mode
choose language